CATHELCO GROUP CHESTERFIELD, United Kingdom

Cathelco is the world leader in Seawater Pipework Anti Fouling and Impressed Current Cathodic Protection Systems (ICCP). We have more than 20,000 installations of Cathodic Protection and Anti Fouling systems on all types of vessels including container carriers, ferries, cruise ships, tankers, FPSOs, tugs, frigates, destroyers, fast patrol craft, luxury yachts and offshore structures. Our ICCP and AF brand names are market leaders and are recommended by ship yards, naval architects and procurement departments across the world. The Cathelco portfolio includes C Shield, Minitek, Alutek, Jotun ICCP, Wilson Taylor, FA Hughes, MPSL and Morgan Berkeley.
Presentation: www.cathelco.equip4ship.com
Address: United Kingdom, CHESTERFIELD, Marine House Dunston Roadt
Contact person: Commercial Department ,e-mail, website
Phone: +44 1246 457900
Fax: +44 1246 457901

unselect all/select all
You have 0 products selected
Anti Fouling Control Panels
Send enquiry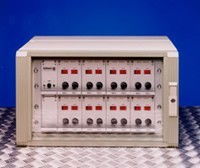 They provide an impressed electrical current to the anodes and are designed with digital displays which enable the system's status to be immediately monitored. Use: large/medium ocean going vessels.